Elmara Group was established in 1964 and incorporated in 1967. We have been involved in industrial works and building construction for over 31 years. Our commitment has always been customer service, quality, competitive pricing and safety.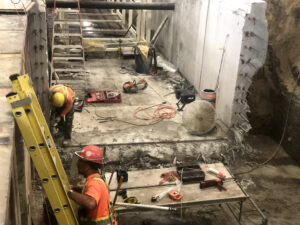 Our staff includes professional engineers and accountants as well as many skilled tradesmen; many of our site superintendents and key personnel have been with our firm for over 20 years.
We offer total turn key projects, design - build, construction management and general contracting services. At Elmara, we are capable of doing many phases of construction with our own forces as well as supervising and co-ordinating a variety of trades and subcontractors. This allows us to be cost efficient, and has enabled us to meet tight dead lines. Some of our specialties include gunite, shotcrete, use of concrete modifiers, confined space entry work, cast in place concrete, and slip form concrete paving. We also specialize in underground sewer, water, storm, road and parking, land balancing, retention ponds, industrial clean up services, concrete demolition, concrete sawing and grouting.
Elmara has completed commercial, industrial, institutional and heavy civil engineering work including sewer and water treatment plants, foundations and roadways. At Elmara we take pride in completing quality projects on time and on budget.
Industrial:
FCA
General Motors
D.M Agri Industries
Atlas Tube
Volkswagen
Key Plastics
D.M Technologies
Allied Chemical
Great Lakes Waste
General Chemical
Narmco Group
Custom Forge
Rust Shield Plating
Retco Stamping
Hiram Walker
Foamade Industries
Commercial:
Institutional:
City of Windsor
Town Of Kingsville
Town of Leamington
Town of Tecumseh
Detroit Edison
University of Windsor
St Clair College
Military:
Energy:
Ontario Clean Water Agency
Trans-Alta Energy
Ontario Hydro
Hydro one
Canada:
Ontario
Manitoba
Saskatchewan
Quebec
USA: